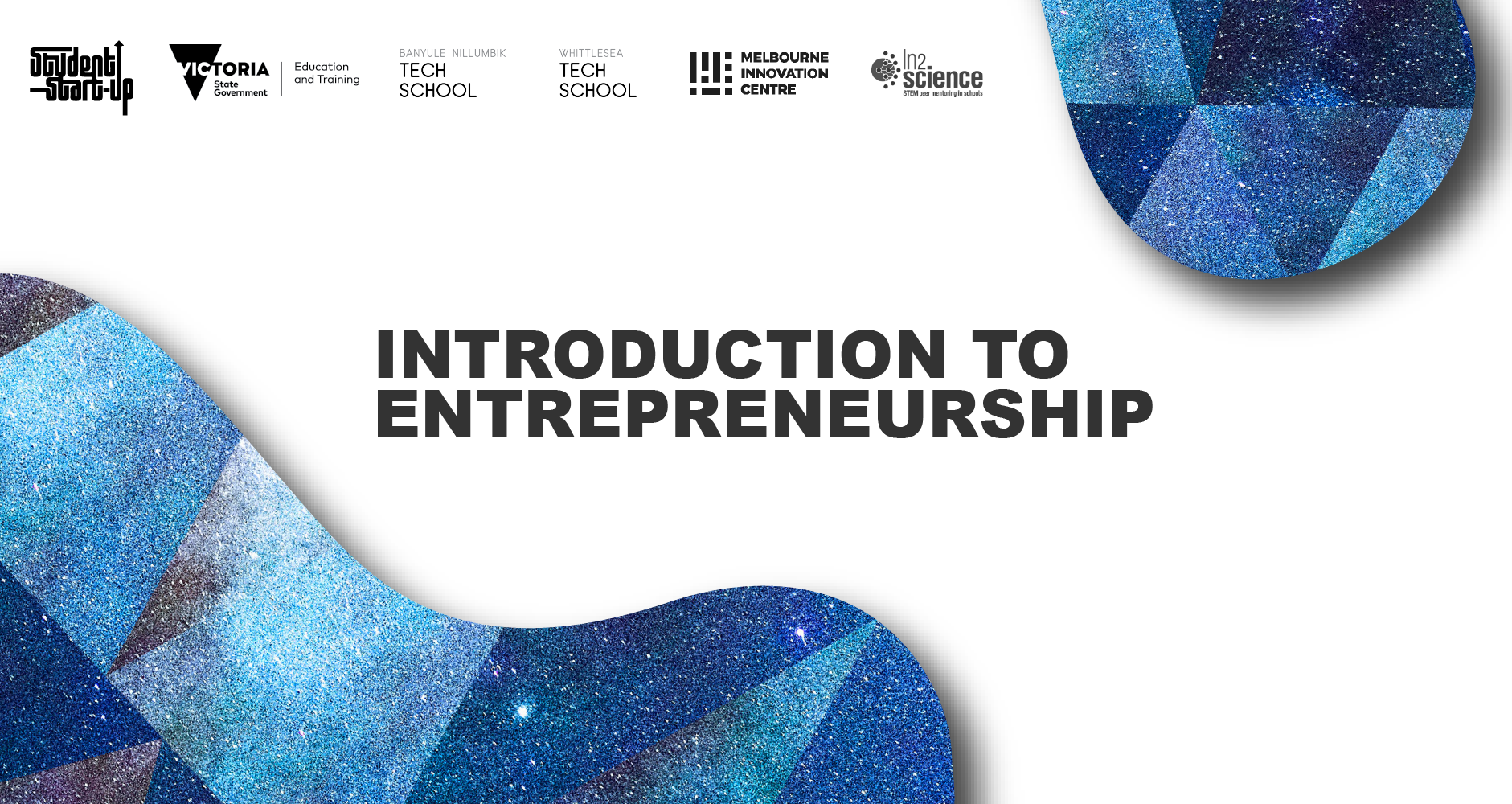 Introduction to Entrepreneurship: Victorian Challenge & Enrichment Series
In partnership with Melbourne Innovation Centre, In2Science and the Victorian Department of Education and Training
Term: 1-4
Program Type: Statewide Program (Entrepreneurship)
Duration: 5 x 90-minute online modules OR 2 days intensive
Year Level: 8-12 High-Ability students from Victorian government schools
Note: The Victorian Challenge & Enrichment Series version of this program is entirely online and available for free to High-Ability students in Years 8-12 from all Victorian government schools. For our partner schools, please note we also have an in-person version of this program for you to book your class into the Tech School.
A structured, virtual entrepreneurial extension program to support High-Ability secondary school students in Victoria to build critical entrepreneurial and intrapreneurial skills.
In partnership with Melbourne Innovation Centre, the program provides a series of five, 90-minute online modules. The program's practical delivery model is designed to assist classroom teachers to better support High-Ability students. Students will have a unique opportunity to work in small groups with experienced entrepreneurs and In2Science STEM mentors to develop problem solving and execution skills, not currently delivered at scale within existing Victoria curriculum.
Students are presented with societal or market challenges with enterprise opportunities and need to develop rapid prototyping business model solutions. Using a range of tools and methodologies, students will work through the critical elements of start-up and lean methodology theories and will be supported to develop solutions and receive feedback from real, potential customers.
Graduates from this program will have the opportunity to apply to our Student Start-Up Academy – Victoria's only student business incubator. 
Limited Term 4 2020 places still available!
Curriculum Links
Science
Technology
Engineering
Art
Maths
Success Criteria
Engagement with industry to understand enterprise opportunities
Exploration of start-up and lean methodology theories
Develop prototypes of business model solutions
Skills Focus
Initiative
Collaboration
Innovation
Communication
Capabilities
Critical & Creative Thinking
Entrepreneurial
Personal
Social